In-Demand Salesforce Roles Your Business Can't Expand Without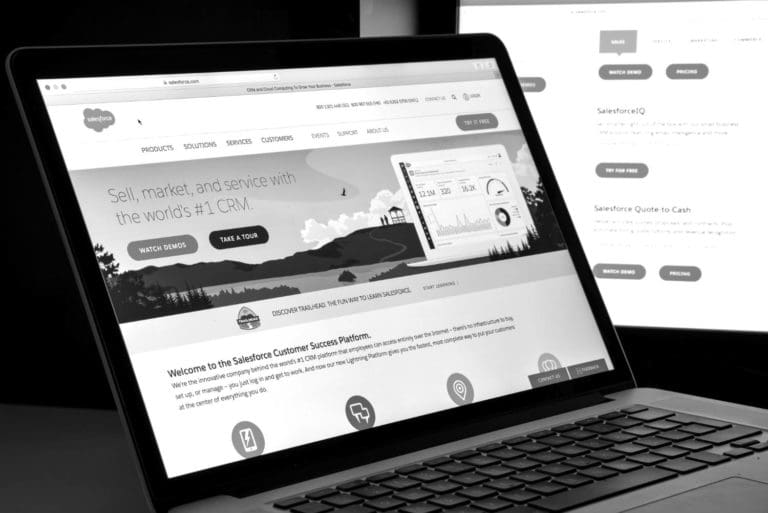 Salesforce expertise is one of the most in-demand skills in the marketplace today, and it shows no signs of diminishing in 2018 or the years to follow. Salesforce commands the top spot as a core technology for eCommerce businesses, but its accompanying ecosystem and applications make it an invaluable MarTech solution for Digital Marketing departments and a crucial automation tool for Tech & Sales teams. Effectively using the solutions Salesforce provides, however, is only possible by onboarding the most in-demand Salesforce roles available.
Why The Surge in Salesforce Skill Demand? 
To understand why businesses must hire specific Salesforce-based roles to use the automated and cloud-based solutions effectively, you must understand the ecosystem. Billed as the #1 CRM platform, Salesforce encompasses much, much more than that. Companies rely on it for everything from enhanced ERP, real-time reporting, cross-department communication, IoT device connectivity integration, to simplified software development tools. Given the wide-ranging Salesforce ecosystem and its unique ability to be entirely customized to meet specific business needs, business execs like you often realize they'll need in-house experts to ensure the effective customization, organization, development, maintenance, and use of the platform across various departments. (We know we did.)
As more companies opt into the Salesforce ecosystem for their business needs thanks to its highly customizable capabilities, Salesforce skills and roles continue to rise in demand. According to analytics by labor-market analysis firm, Burning Glass Technologies, over 300,000 new jobs in 2016 required Salesforce skills. IDC put that in perspective in a recent report with their projection that nearly 2 million jobs requiring Salesforce skills will be added in the next five years.
It's safe to say that hiring for in-demand Salesforce roles now is a valuable investment in the future success and expansion of your business.
The In-Demand Salesforce Roles You Need
As with any specialized skill set, in-demand Salesforce roles and the talent needed to fill them don't come cheap. However, the ROI the following five roles provide will more than cover their annual salaries. Here are the most in-demand Salesforce roles you need to hire for now in order to expand your business and reap the benefits Salesforce and its accompanying ecosystem offer.
Salesforce Architect. This Tech role specializes in building and designing solutions across Salesforce platforms. These are the IT experts that companies on board to organize and design the data flow of their Salesforce integration and overall solution structure to fit specific business needs. Experts in this role are expected to be fully versed with the Salesforce platform, various web dev., languages, and various business processes. Given the complex certifications and requirements of this role and the top-level insights they provide, the average salary for a Salesforce Architect ranges from $130,000 to $200,000.
Salesforce Developer. One of the most popular, in-demand Salesforce roles from our exclusive 2017 placement data, Salesforce Developers build cloud-based solution or app functionality through the Force.com platform, customize solutions to specific business needs, control the adaptability of API's for enhanced communication between systems, test and deploy solutions, and more. Given the various responsibilities of this role, Salesforce Developer salaries range between $110,000 and $115,000.
Salesforce Data Analyst. Data-driven experts in this role analyze the data sourced from the various Salesforce solutions used at a business to uncover actionable insights on how to improve the function of the Salesforce systems and processes in place, along with delivering key insights on how to improve overall business function to increase revenue. The salary for this role ranges between $80,000 and $115,000 on average.
Salesforce Administrator. The Salesforce Administrator is one of the most in-demand Salesforce roles for good reason. These Tech professionals function as the go-to expert on Salesforce at a business. Their responsibilities include reporting on data-driven insights from Salesforce solutions, maintaining current Salesforce systems, communicating new updates and features to employees, improving the efficiency of Salesforce solution use, along with managing the development of new Salesforce solutions and apps. The average salary range for Salesforce Administrators is $80,000 to $120,000 based on certifications and previous experience.
Salesforce Marketing Cloud Consultant. Last on this list of the most in-demand Salesforce roles is the SFMC Consultant. These consultants translate the Digital Marketing needs of a business into customized solutions within the Salesforce Marketing Cloud. These solutions enable companies to elevate their Digital Marketing strategies to drive more conversions and increase revenue. The average bill rate for this role ranges from $100 to $200 per hour depending on the length and requirements of the project.
Salesforce skills will continue to grow in demand in the coming years as more companies look to hire their own in-house experts to handle Salesforce-related issues and needs as they arise. To expand your eCommerce company, you'll first need to address any talent gaps regarding Salesforce expertise on your DevOps and Tech teams and onboard the roles you're missing to ensure you have the solutions and systems in place to support and sustain the expansion.
If you lack the Salesforce experts your company needs to expand or drive innovation, contact Mondo today. We have access to the exclusive, Tech-driven Salesforce professionals you need now.