The Latest VR Updates of 2017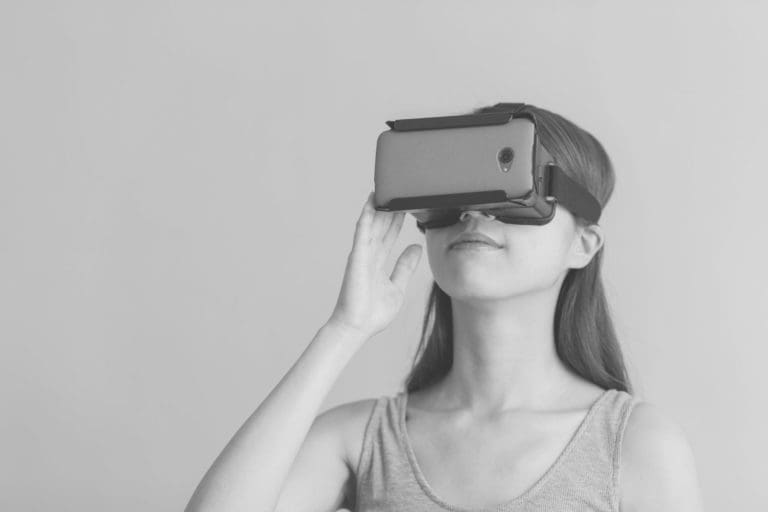 Virtual reality (VR) is the tech buzzword on everyone's lips these days, but we're all a bit unclear as to whether we're on the verge of mainstream VR adoption or if it's still a few years out. Is it all for fun and games or will we finally understand how companies across all sectors can implement this cutting edge technology for that leg up in the marketplace? We sought out the latest VR updates of the year, so you don't have to.
So sit back and get ready to enter the VR world because it's without a doubt here and waiting for you to try it out.
The 4 Latest VR Updates of 2017:
Games, Games, Games
You don't have to think too hard to see a core use of VR will be and already is in gaming. Sony is doing its best to beat out fellow competitors to the high-end VR gaming floor.
At the 2017 Electronic Entertainment Expo (E3), Sony kept us all entertained as they teased various VR games for their new PSVR headset compatible with the Playstation 4 console. These new games exploring enhanced VR capabilities for gamers came on the heels of the very successful launch of their PSVR headset late last year.
With over one million PSVR headsets sold since launching, Sony has proven what many tech experts, us included, have been saying for a while: the mainstream market is not only excited about VR, they're willing to pay the high costs for an enhanced VR experience.
While Sony was initially surprised at the success of the VR hardware launch, their VR-driven showcase at this year's E3 proves they heard their audience loud and clear. As more gaming companies join the VR marketplace, expect to see a dramatic rise in VR gaming options, advertisements, and VR-compatible consoles.
VR Gets Social
A major critique of VR has been the anti-social aspect. You put the headset on, and you enter a virtual world you interact with alone. It's largely an isolated, individual experience. Since we're all addicted to one social media platform or another, it's clear that we value human interactions in virtual spaces. Facebook, one of the leading social platforms you check dozens of times each day, recognized this limitation and capitalized on solving it.
Say hello to Facebook Spaces. One of the latest VR updates announced at Facebook's annual F8 developer conference this year, Spaces takes VR and makes it social by connecting to your Facebook page, and thus all of your virtual friends. Once inside Spaces, you can create an avatar based on photos added to your page and play with fellow Facebook friends that have VR headsets. While actual activities inside Spaces are limited, for now, expect to see an array of options and extensions added to this virtual world. Including interesting blends between real life and VR in surprising ways.
Prepare to start looking at VR in a new social lens in the coming months rather than an independent activity.
More Travel, Health, & Entertainment Uses
While not surprising, many of the latest VR updates have to do with travel, health, and entertainment uses. When you think of VR, you might think of the usual use cases for travel or enhanced health capabilities for doctors and patients or livestreamed, 360-degree entertainment events like playoffs or championships.
The latest update with these is the continued expansion and creative enhancement of VR in these aspects. Improvements in VR tech and creativity when thinking about use cases for these industries have led to things like empathy-driven VR experiences. Think: A VR experience that shows you what solitary confinement is really like or one that explores what migraine sufferers experience. Travel-based VR is finally moving past the basics of transporting you to a popular tourist trap and now giving you the chance to see places like North Korea, a country you would normally never have the chance to see, or Chernobyl, before and after the nuclear disaster.
Along these lines come enhanced VR uses for health professionals and those suffering from vision impairment or blindness. HoloLens VR trials are being used in surgeries to provide doctors with "x-ray vision" to see inside a patient during surgery for improved results. Samsung's innovation lab is working on Relúmĭno, an app that works with Gear VR to help visually impaired or blind users read books and watch TV. Expect to see VR used in surprising ways as innovative developers dream up new use cases for the technology.
Expect to see VR used in surprising ways in the travel, health, entertainment, and various other industries as innovative developers dream up new use cases for the technology.
The Race to VR Hardware
Last but certainly not least, the latest VR updates center around the race to VR hardware dominance. The Sony Playstation VR, HTC Vive, Oculus Rift, Google Daydream View, and Samsung Gear VR headsets are by far the best VR headsets of 2017. But, these major tech competitors are hustling to create the first standalone VR headset.
The first standalone headset is expected to drop later this year and the favorite to actually accomplish it successfully is Google. The company has announced the plan to do so and has proudly claimed they solved numerous hurdles in transitioning current VR headsets that either utilize a smartphone or connect to a PC or console to an entirely cordless, self-sustaining headset.