Will Marketing Bots Replace Human Marketing Talent?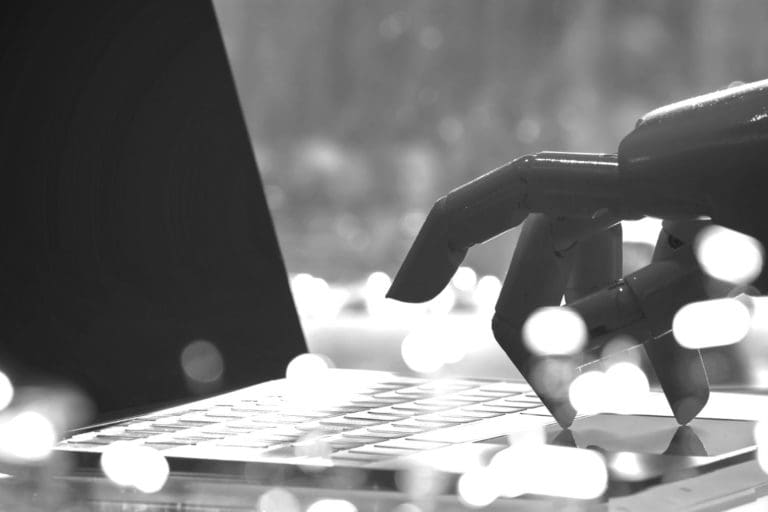 AI and its integration (or disruption of, depending on which side of the argument you're on) into Digital Marketing and a vast array of industries is a core concern and area of interest for business execs. Can marketing bots improve the efficiency of your Marketing department? Will they replace them?
Find the answers to your questions and explore the world of marketing bots with us. You'll be surprised at what you learn. (We were.)
The Rise of the Marketing Bots
We've all heard of "bots." Basically, they're a form of automated tech that is programmed to execute specific tasks or functions without needing human intervention or guidance. However, they're typically prompted to perform an action by a human, but carry it out themselves.
Now that we've covered the basics let's get into why bots are on the rise. With the introduction of Kit to Shopify last year, we saw firsthand the capabilities of what eCommerce-based marketing bots can do, like create Facebook ads, set up pixels for retargeting, send out email marketing campaigns, and more. Facebook also introduced us to the Messenger bot platform in 2016 with 33,000 chatbots which has now expanded to include around 100,000 bots performing various customer service functions that go beyond simply "chatting."
While chatbots may not sound like a sound investment for companies outside of retail or eCommerce, they are constantly being improved and developed to tackle enhanced marketing-based challenges like improving email messaging to drive CTR, assisting with early-funnel decisions and understanding when to hand off to a human for higher-funnel activity, along with improving survey functionality and the resulting data sets.
Tune, a Seattle-based marketing tech company, has created the "tunebot" to help clients get answers to data-based questions. Think of it as an on-site, unpaid data specialist that can pull specific numbers, like CPC on Google AdWords or the number of app installs per day. Integrated through Slack, this data-focused chatbot was created to make querying data easier for lean teams without an expert in data management and analytics.
It doesn't stop there. There are bots that can improve decision-making amongst Marketing teams, provide a daily virtual scrum report for each employee, or simply assist with an array of marketing research-based needs. If you have a need, there are Marketing bots that can help.
Are Bots Here to Take Your Job?
While I may be human and work in Marketing (AKA my bias is pretty clear), I can confidently say the bots aren't coming for all the Marketing jobs just yet. It is true that AI will potentially be a major disruptor for industries like transportation, logistics, and customer service. However, a 2015 study by Oxford University and Deloitte reports the threat of disruption to Marketing professionals is minimal. Citing it's fairly unlikely (33 percent) that "Marketing Associate" titles will be automated over the next 20 years and very unlikely (1 percent) for "Marketing and Sales Director" titles.
A survey conducted by Oracle of over 800 senior-level Marketing and Sales professionals revealed that 48 percent of brands had implemented automation technologies in sales, marketing, and customer service, with another 40 percent planning to do so by 2020. While it's clear innovative businesses understand the usefulness of automation tech when it comes to Marketing, a majority also understand that these technologies cannot replace a human workforce, but instead create new jobs and change what jobs are necessary.
Rather than thinking of these bots as a replacement to the humans working in your Marketing department, think of them as interns or entry-level titles to more senior employees, augmenting their workflow and allowing them to be more efficient and effective with the tasks that require their human skill sets. Much like how automation decreased the need for data entry roles and various other entry-level analytics roles.
Additionally, with new tech comes new jobs for those fluent in the technology. The wide array of marketing bots now available and the complex technologies they integrate with require consultants for the tools themselves. We've seen a rise in demand among our own placements this year for Marketo, Eloqua, and other marketing automation titles for companies looking to integrate these new technologies and benefit from the potential AI and marketing bots can offer.
Given the explosion of automation technologies and AI-driven tools like chatbots and marketing bots in the past couple years, businesses should expect to see hundreds more in the coming years that will improve business function and marketing efficiency, but will also require consultants experienced with how to best use the technology.
If you lack the Marketing Automation talent you need to integrate a new solution or improve the efficiency of your team, contact Mondo today. We'll match you with the experts you need to implement Marketing bots or the latest martech solution.