VR World Brings Virtual Reality to the People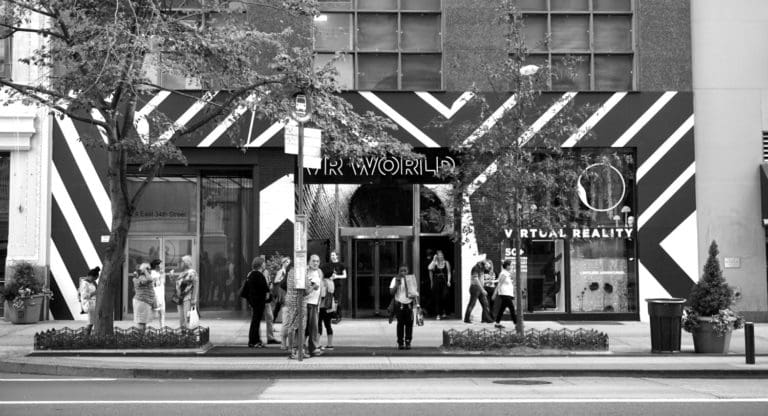 Nestled in between Madison Ave. and 5th Ave. on E 34th St. in New York City is the largest VR experience center in the Western Hemisphere: VR World. Less than a month out from their grand opening, the space pops on the street with graphic and unusual storefront designs that entice locals and tourists alike to stop in and see what this "virtual reality" thing is all about.
We toured the new space, spoke with insiders, and tested out the best VR experiences to give you an exclusive look at the current and future state of virtual reality.
Welcome to the Virtual Future
High-end virtual reality tech and the content for it is here, but it's rare to find anyone that has experienced a fully immersive VR environment. Newly opened virtual reality entertainment center, VR World, hopes to change that. With a mission to make the medium of virtual reality accessible to all consumers, this retail brand might just be the missing link between expensive, high-quality VR hardware and content and the mainstream user base it's finding difficult to attract.
"The point of us having this space goes back to our mission to make VR more accessible. We want people to understand that it's not just gaming," said Jessica Gray, the Marketing Director at VR World. "It's for education. It's for art. It's for music. We're really trying to present VR and make it mainstream by introducing it as the next medium for storytelling."She goes on to describe upcoming additions to the VR entertainment center, like gamifying the actual space itself through hidden vignettes and other interactive elements.
With lots of open space, color-blocking design, birch trees blended into the environment, lasers, a full-service bar, and several lounge areas, VR World makes it clear as soon visitors enter that this is a space for more than isolated gaming. It's for experiencing something you're not quite sure of with perfectly curated areas to take breaks and discuss the literally awe-inspiring events you witness under the Oculus or Vive lens'.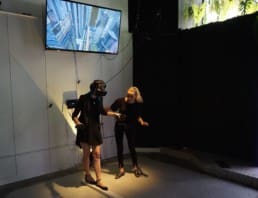 With three floors and an array of VR-driven experiences, including a Museum level with 360-degree seated documentary and educational VR experiences with empathy-driven VR components, the team behind the space are striving to showcase all of the functions virtual reality can include.
"We want people to actually come into this space and start thinking about and kind of saying to themselves in a funny, satirical sense, but also in a very real sense: 'What does VR mean? What does it mean that we are kind of stepping out of reality,'" said Gray.
It's a deeper thought to the complicated idea of virtual reality and its function in our lives moving forward.
What VR World Gets Right
Mainstream VR adoption hasn't been instantaneous, but rather slowly building. This slow mainstream adoption among the public comes down to few hurdles we've outlined before in our 2017 Tech Trends & Talent guide: the cost of hardware, the sophisticated computer system needed to operate it, education about VR itself, identifying innovative uses, the isolating individual experience, and VR sickness. VR World does an incredible job of tackling these issues head on.
The cost of an Oculus Rift set or an HTC Vive isn't cheap, and the accompanying devices needed to run these systems effectively aren't accessible to a majority of the public. By bridging the gap between the various VR content available and the hardware needed to run it, all available at the affordable $39-day pass price point, VR World brings a fully immersive virtual reality experience to the average person.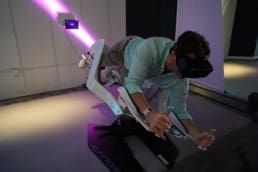 The next hurdle is the educational element, which includes expanding the way people think of VR and its uses. Pocket Silbermintz, the Director of Tech Operations, says, "I feel like we are at this turning point in VR where it can be legitimized or delegitimized as just video games, so then it's just for play. There are many that are incredibly story-based, and others are there to serve an even bigger function. I feel like a lot of people lose half of the picture." Gray agrees, "There are so many applications of so many industries that are trying to get involved in VR, everything from television, to music, to medical, to health, to sports, to real estate, to fitness, to education, and movies." VR World also emphasizes the importance of empathy-driven experiences that virtual reality allows. Currently, the center features an experience that shows what it's like to be blind.
The final hurdles, VR sickness and the isolating effect of one-player VR experiences, are both expelled as soon as you test out a few games. With various multiplayer experiences and monitors for spectators to see through the eyes of the current VR user, the space removes the isolating experience of VR and instead makes it a social environment for visitors to discuss over drinks in one of the lounge areas.
As someone that suffers from motion sickness, VR sickness was always a main concern for me regarding testing out the new tech. VR World understood this concern and curated the space and content around it to specifically decrease the chance of nausea or any feeling of VR sickness. "In terms of nausea, we've never had a serious problem. Not a single one," says Silbermintz, which is a major feat. While playing a variety of games, I never experienced any symptoms of motion sickness. The full physical immersion is key to reducing sickness, something VR World does well by having numerous bays where visitors can move, walk, swing, dodge, or whatever other movements their VR experience calls for.
So, What's Next?
VR World is the first publically accessible look at what virtual reality could offer and could be a key instrument in spurring mainstream adoption of VR. With eyes on the future, the VR entertainment center is hoping to expand nationally, and possibly even internationally, in the years to come as virtual reality becomes more integrated into our daily lives. VR World looks forward to featuring more experiences from various industries outside of gaming and entertainment and making the space feel more like an interactive art gallery than an arcade.
Along with bringing VR to the people, this unique business is also looking to pull insights from the data the VR experiences generate. The data is already used to improve the flow of the space, keeping lines from getting too long for fan favorites, but will also be passed to hardware and software developers to improve experiences and build new ones.
If you're looking to develop consumer VR experiences or identify business uses of virtual reality for your company, contact Mondo today. We'll match you with the high-end, niche VR consultants you can't find anywhere else.