Why We Need More Women in Tech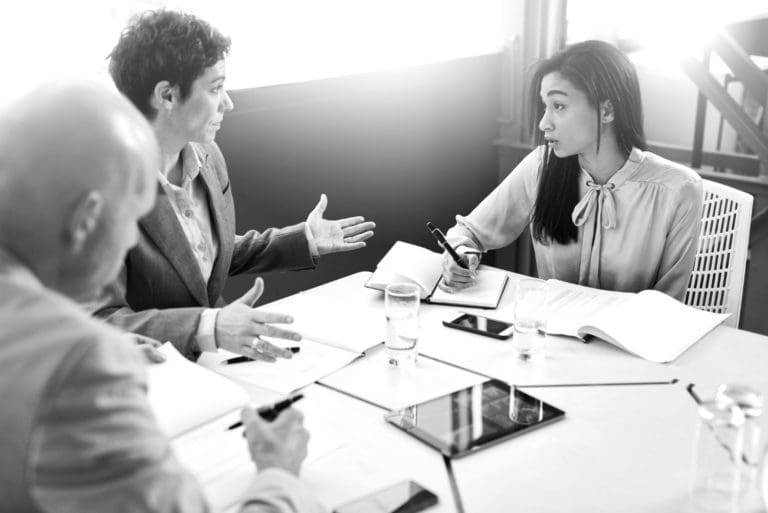 The underrepresentation of women in Tech is a topic we've covered extensively. From highlighting creative solutions to the Tech gender gap to identifying three women changing the IoT industry and even discussing the cause of the growing Tech talent gap and retention threat, we witness first-hand through staffing Tech-based roles the value women bring to Tech and the need for enhanced diversification in the industry.
Yet, with the barrage of recent negative accounts from women working in Tech-based roles in places like Silicon Valley and Google's internal diversity manifesto controversy, it seems the irreplaceable benefits of having women in Tech remain unclear to some.
How You Directly Benefit From Women In Tech
The opinion that hiring women to work in Tech is solely a PR effort by companies and that doing so is damaging to a company's productivity and bottom line is a dangerous one. Especially when you consider the opposite is proven to be true by a wide array of data-driven sources. Here are just a few of the reasons we need more women in Tech and how you might directly benefit from more gender diversity in Tech businesses and Tech-based positions.
Diversity of thought leads to better problem-solving. This statement is backed by decades of research. Collaborating with individuals of different genders, sexual orientations, ethnicities, and race leads to increased innovation and enhanced problem-solving. Hiring for diversity means onboarding different methods and strategies of thinking, as well as the increased capability to understand the pain points of all members of your target demographic. Nearly 62 percent of our executive and management-level teams at Mondo are made up of women, and we have experienced the far-reaching benefits, like enhanced problem-solving and increased innovation, that prioritizing gender diversity in your workforce provides.
More women in corporate leadership roles lead to increased revenue. In a survey published in a Peterson Institute for International Economics working paper of 22,000 firms globally, researchers found that gender diversity is indeed profitable for companies. The survey shows that firms that went from no female corporate leadership to a 30 percent female share were associated with a one percent increase in net margin, which translated to a 15 percent increase in profitability for a typical firm. The interesting finding was that these female corporate leaders performed relatively on par to their male colleagues. So rather than being better at their jobs, increased gender diversity at the corporate level led to things like increased skill diversity in upper management and less gender discrimination throughout the firm, which led to an improved ability to recruit top talent. In fact, the "gender pay gap is half the size at tech companies with more women executives," according to a recent analysis by Redfin and PayScale. It's these resulting elements of corporate gender diversity and equality that led to the increase in revenue.
The ability to tap into the largest single economic force in the world: American women. According to a survey by Catalyst, women control around 73 percent of all household spending in the U.S. By other reports, they account for $4.3 trillion of U.S. consumer spending out of the total $5.9 trillion spent. For B2C businesses, a lack of women in Tech or corporate roles can lead to an inability to market effectively to that audience. As technology continues to invade the average American household (think: IoT devices), this consumer base and where they decide to spend their money could greatly impact the continued or future success of some Tech-driven companies.
An entire marketplace lacks Tech-driven innovation. There is currently a marketplace of female-oriented products that desperately lacks Tech-driven innovation. These are products that by definition only women buy, like menstruation products, ovulation tracking tools/apps, as well as products typically bought by women. This could be a direct result of having a majority of Tech businesses run by male-dominated corporate leadership, since people are often less likely to start a company in a sub-industry that has no relationship to them. However, this industry presents a wealth of profitable possibilities that Tech-driven businesses run by women, or ones with more women in corporate positions, might be more apt to pursue.
The U.S. needs more Tech talent. End of story. The Tech talent gap will get worse before it gets better. There is a wealth of female Tech talent that U.S.-based companies must start utilizing to continue to grow businesses stateside and compete in an increasingly competitive global marketplace. Along with that, the same businesses must prioritize the development of safe, welcoming company cultures that will enable the retention of more diverse talent.
No matter how you look at it, a more gender diverse workforce is better for business, especially in Tech. Women are more than capable and qualified to excel in Tech-based fields, like engineering, coding, cybersecurity, and more. Many women already are excelling in Tech despite the odds stacked against them, and the forward-thinking businesses they work for are reaping the rewards. It's time all companies recognize the bottom line benefits that prioritizing the hiring of qualified women in Tech provides.
If you lack the diverse Tech talent your company needs to continue to innovate and thrive, contact Mondo today. We'll match you with high-end, diverse Tech talent you won't find anywhere else.