We're Hiring: 4 Reasons Why You'll Want To Work At Mondo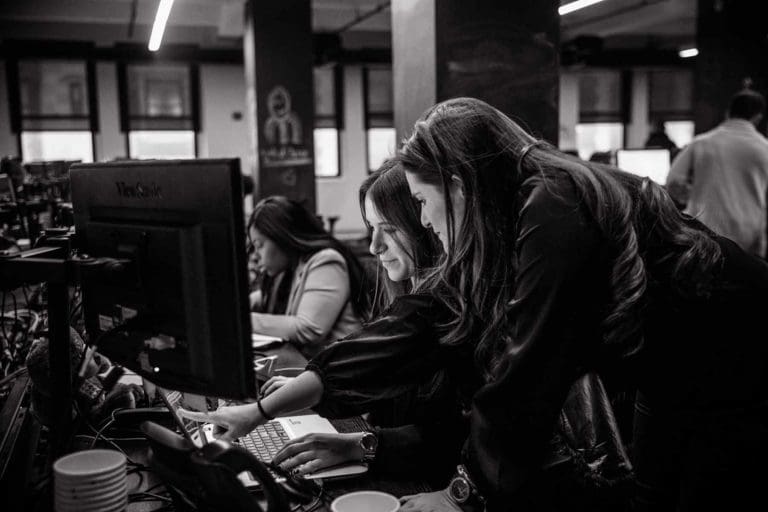 If you left your most recent position because of a lack of professional development, work-life balance, or a manager's unprofessional behavior, you're not alone. According to the Work Institute's 2019 Retention Report, these are the top three reasons employees quit. There is good news, though, Mondo is hiring and with our people-first culture at the center of everything we do, we always prioritize career development, enhancing work-life balance, and leading with emotional intelligence! Read on to hear firsthand who we are and why you'll want to work at Mondo.
#MondoNation AKA Disruptors Of The Staffing Industry
Mondo was founded back in 2000 and has gone on to become one of the largest national staffing agencies specializing exclusively in high-end, niche Tech, IT, Creative, and Digital Marketing talent. With an emphasis on emerging technologies, we were one of the first staffing agencies to recognize the growing demand for talent with creative and technical skill sets.
To date, we've been able to build an exclusive tech-driven network of professionals that has grown to over 1.4 million of the most qualified IT consultants, Tech experts, and Creative & Digital Marketing talent. Not quite sure you're ready to make a cross-country move? Check out the cities we have offices in to see if we're hiring near you:
Atlanta
Boston
Chicago
Denver
Los Angeles
New York City
Philadelphia
San Francisco
Washington D.C.
From the East Coast to the West Coast, we've been disrupting the industry by providing a streamlined recruiting experience and proving that staffing isn't just our job; it's our passion. Yet we are also able to provide personalized career mapping while promoting both professional development and an enriched work-life balance.
As Mark Kindy, Lead Technical Recruiter and one of our recently crowned Agent of Excellence put it, "Mondo really showed me how to hold myself accountable on a day-to-day basis. I've learned that what business comes down to is facts, making things happen, and the importance in building the relationships surrounding that."
Why Work At Mondo?
If you feel like your career is going nowhere and that your ethics, purpose, and goals aren't aligned with your employer, check out the four reasons we think will make you want to work at Mondo and start charting your career path with us:
Uncapped commission
We get it, you're working in sales and you want to earn as much as you can. The only way we can keep all of our sales and recruiting agents fueled, inspired, and motivated is by offering uncapped commission AKA working for Mondo literally means that the sky's the limit. When you work for us, we want you to not only enjoy the hunt but reap the rewards that follow. 
"I am fortunate enough to work at a company where I can earn uncapped commission by putting in hard work; but I also get to wake up knowing I will be surrounded by hungry, passionate, and driven individuals who push each other daily to exceed their individual and shared goals."

– Chelsea Volz, Recruiting Manager | Denver Office
Enriched Work-Life balance
Work-life balance is crucial for everyone at Mondo because we know that you can't put in good work if you're not feeling your best. Our senior leadership team had adopted an upside-down triangle theory when it comes to managing, meaning the field drives our initiatives rather than only the executive-level. This theory supports our people-centric culture because those at the top are the ones supporting the company while managers are aligned more with the day-to-day and work closely with HR to ensure agents are taking PTO, using their work from home days, and allowed and encouraged to have an enriched life outside of the office.
"I work from home now, so I feel like the fact that Mondo allowed for that, and continued to let me manage a team, is something that I think is really incredible. I was able to move back to North Carolina, almost a year and a half ago, and I didn't want to start over."

Mary Schadler, Recruiting Manager | Remote 
Professional Development
No matter the role, here we equip all of our agents with the tools and support needed to promote both professional and personal growth. From career mapping, peer mentoring, and our enhanced training modules, we understand and value the importance of continual growth. When our employees become the best they can be is when we are able to offer the best services,solutions, and experiences to our clients and consultants.
"I'd say that Mondo has provided me with the challenges that have helped my career grow. The company has let me move around within the finance department and learn the ins and outs of each role on our team. At Mondo, I'm able to learn about every facet of finance and accounting."

Scott Pano, Controller | Boston Office
Unparalleled culture
Name another staffing agency that offers monthly cell phone reimbursements, paid sabbatical, or unlimited PTO, but those aren't the only perks to working at Mondo. All of our agents will be the first to tell you about our unique work culture. With the upside-down triangle theory, we have been able to create a culture where everyone is allowed to grow, contribute, and, more importantly, is supported at every step of their career. At Mondo, our employees come as they are and take a direct role in shaping our nationwide and office-specific culture because they are the ones who make us unique and help us stand out from the competition.
"Every win here is heavily celebrated nationwide, and they really make everyday struggles and battles worth it; you end up feeling loved and supported all the time at Mondo. I actually had never worked in staffing before coming to Mondo, and my background is in marketing and social media. At my previous company, they were always looking for the quickest way to make a dollar without caring about who they had to trample on to get there."

Janie Marcus, MondoX Recruitment Consultant | LA Office
You'll want to work at Mondo because we help you uncover your true potential and help you become the professional you've been working towards. Our core values — mentality, accountability, and process AKA MAP — are what drive us and have helped us continue to innovate both internally and externally. So if you have the mindset to stay resilient even when things get tough, are accountable with everything you do, and can adapt with our process, apply for our available Account Director or Technical Recruiter roles today. We're looking to expand our sales and recruiting teams across all of our offices with amazing, in-demand professionals like yourself.