The 3 Highest ROI Generating IT Jobs for Permanent Placements for 2016-17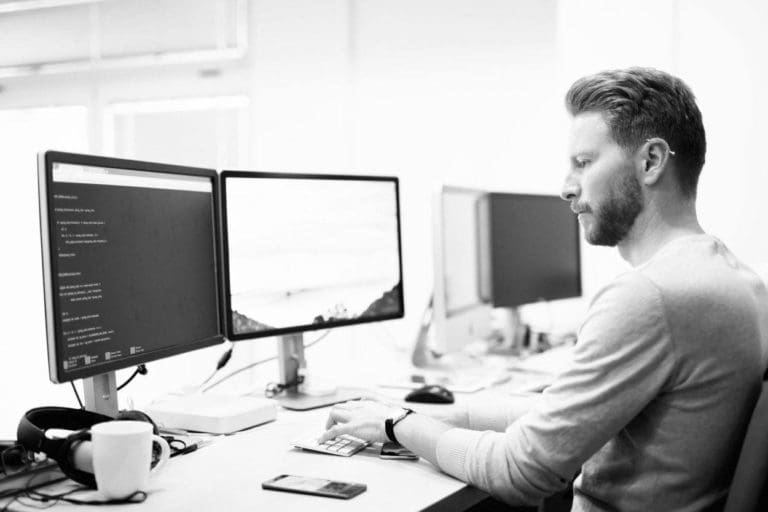 When deciding what IT roles to hire for many business executives solely hire for what they deem dire or developing needs without taking into account the ROI the role will generate. Evaluating the ROI generating potential for the permanent roles you are considering adding to your tech team is a crucial step that companies can't afford to overlook.
For example, if you need a native business app developed, your immediate thought might be to hire an App Developer. However, this role has an average salary of $92,600, which means after having the app designed and developed you are still paying the individual thousands of dollars each month to make minor tweaks and updates to the app; money you are unlikely to get a return on. Instead, it makes more sense to outsource the app development and avoid hiring for this role after taking into account the low ROI it offers your business long-term.
To help you make sound, informed hiring decisions for your tech team while still prioritizing your bottom line, here is a look at the three highest ROI generating IT jobs your business should consider hiring for in 2016-17:
3 Highest ROI Generating Full-Time IT Jobs:
– HTML5 Developer:
HTML5 is the open-sourced language used for the development, creation, and design of websites and apps and is often the code behind the most well-designed websites. HTML5 Developers create the code behind your website, build in reusable code, perform maintenance and enhancements as needed, and develop new user features.
The reason the HTML5 Developer role is one of the highest ROI generating IT jobs is because every single business needs a strong Internet presence with the user experience (UX) as the priority, meaning you will always have needs that only an HTML5 Developer can handle. Not only do you save money on outsourcing website design, maintenance, and updates by having it done internally, you are utilizing a Developer that is building a permanent coding framework that other tech team members and Developers will be able to navigate and update as needed as well.
By hiring for this role, you are paying an average salary of around $65,000 to invest in an internal expert that will continuously help lower bounce rates and boost customer retention and conversion rates, proving the ROI potential offered by this IT role.
– Data Scientist:
One of the highest ROI generating IT jobs is the Data Scientist role. As we noted in our recent blog post, more companies are becoming aware of the massive untapped potential their customer data offers and how that affects their bottom line. However, they often lack the knowledge, expertise, and internal talent needed to address this issue and properly utilize their customer data to boost conversions, retain current customers, net new customers, and enhance the UX. That's where Data Scientists come in.
Individuals in this role analyze data from a variety of sources to find and communicate business problems. They have the specialized ability to sift through vast amounts of data by creating specific algorithms and identify hidden insights and problems that are of the most value to the business. Data Scientists use data to uncover customer pain points, habits, and buying trends and effectively communicate these findings to drive conversions, sales, customer retention, audience growth, and traffic.
The average annual salary for this role is between $99,000 and $152,000. However, those numbers are minimal in comparison to the revenue you'll receive monthly based on the data, insights, and recommendations provided by your Data Scientist.
– Cybersecurity Engineer:
Given the current business reliance on network/WiFi connections, cloud computing technologies, off-site servers, and insecure communication methods, along with the growing amount of cyber attacks done through these platforms, cybersecurity has never been more important to business owners. Due to this, businesses are beginning to create internal cybersecurity teams to ensure their sensitive information, data, and technologies are protected. However, it's difficult to determine which cybersecurity roles provide the best ROI or are worth the investment you'll be making to add them to your permanent team.
One of the highest ROI generating IT jobs in the cybersecurity sector is the Cybersecurity Engineer position. Individuals in this role improve the security of your facilities, technological infrastructure, and employee information and communication. They work to ensure your business has a secure network, database, and website, as well as actively identifying potential security threats to the business. They work to diffuse and block these threats before they attack, thus protecting your sensitive business information, like access to your business credit cards, bank accounts, personal employee information like social security numbers, customer information, and more.
The average annual salary for professionals in this role starts around $60,000, which you'll see a return on immediately based on the money you'll save by being protected against cybersecurity threats, hackers, and the losses resulting from these type of attacks. Cybersecurity threats will only become more advanced and difficult to detect, which is why an initial investment now for internal cybersecurity professionals is needed to secure the future of your business.
In Conclusion:
Rather than hiring for permanent IT roles based on immediate needs, it's crucial business executives are gauging the ROI for each position they are looking to hire for. The three jobs listed above are the highest ROI generating IT jobs for permanent placements for 2016-17 that forward-thinking businesses need to hire for now.
If your business lacks the full-time IT talent you need or you're unsure which IT roles offer the best ROI, contact Mondo today. We can match you with the highest ROI generating IT talent you need now and will continue to need in the future.