Mondo's Latest Event Shows The Importance of Unconventional Workplace Training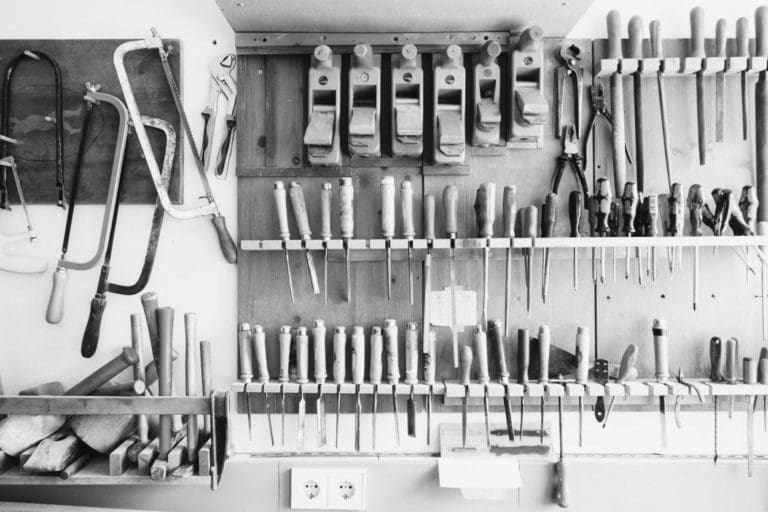 Here at Mondo, we understand and value the importance of unconventional workplace training. As a company whose products are the people we place, top digital marketing and high-end, niche IT/tech professionals, which means our products come with feelings, experiences, and ideas. So we know better than most businesses that unconventional workplace training is necessary to humanizing our work and reaching our goals by helping our consultants reach theirs.
In line with that, we've recently launched our "Meet the Consultants" series. Each event is led by a digital marketing or tech consultant we've placed, and the goal of the series is to allow our recruiters the chance to get insights and information from the very individuals they are placing.
The first event of the series took place this past Tuesday on Nov. 1. Nick Johnson, a seasoned Front-End and Full Stack Developer, stopped by the NYC office to give our recruiting teams an inside look at the types of jobs he's interested in and what he likes in a recruiter.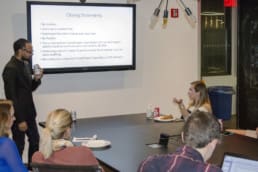 Nick Johnson presents his insights to the recruiting teams at Mondo's NYC office.
These events break down the walls between recruiters and the consultants they work with, allowing them an inside look into the struggles, pain points, preferences, and experiences of the talent they are placing. We've also noticed the newest generation of the workforce has an innate desire to be learning and improving constantly. Our employees thrive when they feel like they are being challenged and encouraged to expand their way of thinking, which is exactly what unconventional training initiatives provide.
Our version of unconventional workplace training has been invaluable in educating our recruiting teams, improving the knowledge and understanding of various technical roles, fostering connections between the consultants we place and those placing them, and driving home our company-held belief that our consultants are an important part of the Mondo family.
Jeffrey Coleman, an Enterprise Technical Recruiter in the NYC office, and Elliot Parauda organized the event series and helped lead the first event with Mondo Consultant Nick Johnson. When asked how the event was received, Jeff said it was a sound success. The most important lesson he felt recruiters walked away with was that beyond resumes, grit, and drive, building strong relationships with candidates and consultants is what will lead to total success. Here's what a few other participants had to say:
"It was great learning about the life and mind of a great consultant. From skill set to how to build a relationship." – Technical Recruiter at Mondo
"It was so amazing meeting someone who explained a job I mention in every meeting! Loved this event." – Account Director at Mondo
Our consultant's experiences also ultimately hold the key to growth because learning about them helps us better meet the needs of our clients as well. By accessing the expertise and experiences of our consultants, our recruiting teams better understand the skill sets of each candidate and are more successful at placing them with companies where they are the best fit. A better experience for consultants results in our company retaining the top network of the elastic workforce, which in turn leads to more referrals, allowing us to exponentially grow our high-end, niche IT/tech talent and digital marketing talent pools.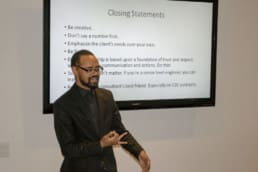 Nick Johnson provides his closing statements during the first event of the "Meet the Consultants" series at Mondo.
Implementing unconventional workplace training initiatives at your company results in a wide array of business benefits. It can enhance and improve the productivity and efficiency of your employees, lead to educational opportunities that expand employee knowledge on your product and the best way to market it, and drive more leads, which means more sales.
Creative companies that are experimenting with unconventional workplace training initiatives, like the event series highlighted here, will be driving innovation moving forward, increasing revenue, and developing a culture that attracts top talent.