Do's & Don'ts During the Interview Process for Hiring Managers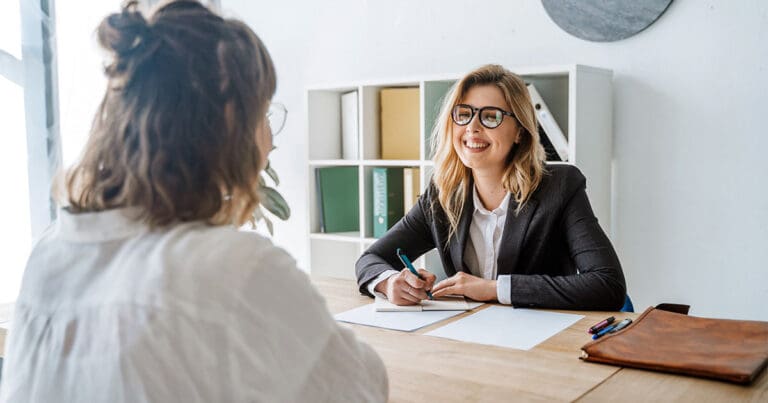 As a hiring manager, there is nothing more important than acquiring talented candidates. However, when it comes time to actually do the hiring, there can be many other competing obligations.
Do you finally have that approval for the open headcount you've been waiting 5 months to get approved? Or maybe your top person on the team just gave their 2 weeks' notice… now what?
In this article, we'll outline the Do's and Don'ts that all hiring managers should be aware of, plus common obstacles you may experience and how to overcome them.
Improving the interview process do's & don'ts
1. Do make the time for interviewers
Put blocks of time on all the interviewers' calendars proactively and start the interview process when you can fully commit to 2 weeks of interviewing.
What does this mean?
It means you and the interview team can commit to 2-3 hours a day to finding the right person for the job.
If you are about to go on vacation or have an internal project that is going to compete with your time to interview… WAIT.
Do not even start recruiting until you are ready to prioritize and move fast.
2. Do provide immediate feedback to the candidate
Whether you're working with a staffing agency or internal recruiting, use the time immediately after to give feedback — whether you liked the candidate or not.
This helps in a few very important ways:
The team recruiting for your role gains immediate feedback to gain information that is going to better align with the candidate search.
Candidates value communication whether the feedback is good or bad because it helps them be better prepared for their next interview.
The process becomes the number one topic at the dinner table. "Did you hear back yet? Are you moving to the next round? Did you get the offer?"
When candidates are left hanging the pressure is on, so be respectful and take five minutes to give your feedback and/or set up the next steps.
When there are ten pressing priorities it can be easy to miss this important step. So many times hiring managers make the thirty minutes to interview but then make the excuse that they do not have the five minutes to give feedback immediately following.
I have seen 2 days go by after a candidate interview and there is no feedback given but then you receive the email that they want to hire them.
We can all guess what happens next…
That candidate is no longer interested in the opportunity so turns it down. If only the hiring manager had committed to providing quick feedback!
3. Do make sure you know what your candidate's motivations are before going into the interview
Remember they are interviewing you. What do they need to hear in order to be excited about joining your team?
So many times we spend most of the time talking about the position and then asking the technical questions to disqualify the candidate, leaving zero time to provide the candidate with information that actually matters to them.
For example, a candidate may be looking for a new opportunity that has leadership potential. Without even realizing it the hiring manager just spent the full hour talking about everything but the exceptional leadership program the company has in place.
This is such a missed opportunity to show alignment in core values. In today's market candidates are not just looking for a bigger base salary, there is so much more that goes into choosing your opportunity.
Don'ts of the interview process
1. Don't keep waiting for the perfect candidate
Don't waste three months interviewing for the perfect candidate. Hire based on a candidate's potential and someone who you feel comfortable being able to work with every day.
The harsh truth is that you may not be positioned to attract that perfect candidate.
Are your salary bands high enough? Are you offering fully remote options?
If you can't answer yes to these questions then you have to be flexible when hiring.
2. Don't cancel an interview
It can be easy in the moment to cancel an interview when we have deadlines piling up and our boss is expecting things to be executed that day.
It may seem like no big deal because you can just push it to tomorrow, right?
Well, the reality is that the best talent is currently employed and taking time off in order to commit to an interview.
Not only that, but if they're proactively looking for a new job, they have at least 3-5 other opportunities they are interviewing for.
As a result, when you try to reschedule, this automatically disqualifies you.
If it's an absolute emergency, a great solution is to see who on your team can do the interview instead.
3. Don't include tests or assessments
The objective of the take-home assignment is to know for sure if the candidate is going to be strong enough for the role — but ends up being counterproductive to what you are trying to achieve.
The top candidates in the market with the strongest skill set will not interview for your opportunity if they have to spend an extra 2 hours completing a take-home assignment.
The truth is, they don't have to because there are plenty of other interview processes without them. They know their worth and will not be bothered.
This leaves you attracting less skilled and experienced candidates which is why you should never include a take-home assignment.
Common obstacles during the hiring process
Committing time to the hiring process
When it comes time to finally start interviewing, the easiest thing to do at that moment is to procrastinate and not prioritize the responsibility you have as a hiring manager.
I am going to be real — the longer you wait to fully commit to the interview process the longer it will take to fill the vacant spot you have on your team.
This may seem like common sense but we have all been there — where the demands of our day-to-day pile up and we tell ourselves… we have time.
Interview time constraints
Another common obstacle is the classic: "Let's slowly interview candidates over a 3-month period…"
Only to end up wishing you had extended an offer to the first candidate that is no longer available because you took too long.
Why is the interview process so important?
The candidate experience is a reflection of you
In today's market, the candidate is in full control. They are interviewing you even more than you are interviewing them.
That being said, the interview process is your first impression as not just a hiring manager but who you are as a leader. It is your brand.
If a candidate has a poor experience, most will remove themselves from the process before it even gets to the offer phase.
The candidate experience is a reflection of your company
When consulting on how to architect the most streamlined interview process with a client, the first consideration is always, "How will this impact the candidate's experience?"
This is because, how the candidate feels throughout the interview process is a reflection of not just who they are interviewing with but the entire company.
A great reminder is that even if you do not want to hire the candidate for your current opening there is a good chance that you will see the candidate again.
Whether it's for a role in the future that they would be a better fit for, or there are other openings at the company they are better suited for, you want them to remember their experience in the best light so they are willing to go through the interview process again.
The candidate experience sets you up for future success
How you represent yourself to the candidate during the experience process is the foundation of your working relationship.
When you provide great communication and engagement with the candidate that builds trust and transparency before they've even started with your team.
When the interview process is smooth and proactive the candidate is excited about joining your company because it shows that you are efficient and organized.
When a working relationship is started on these grounds it cultivates a productive and strong workforce. I
All it takes is making each interaction during the interview process intentional and making your candidate a priority.
Improving the employee experience
All in all, when you prioritize the candidate experience, it may require more time upfront, but in the long run, you get your ROI.
Acquiring the right talent is crucial for your team's — and company's — success.
It is time to start using the interview process to your advantage. Build your brand by leaving a lasting impression on each candidate you meet.
Final thoughts from a professional recruiter
Working at Mondo for 7 years has facilitated my passion for helping my clients navigate the ever-changing job market.
I take pride in making sure our clients are set up for success before the interview process even begins by equipping them with the tools and knowledge they need to build better teams and save time.
Acquiring talent is an investment and it is so important to treat it as such.
Find great talent when you partner with Mondo
Looking to hire? Contact us to get started:
Continued Reading on Hiring Advice and Industry Trends: