The 4 Most In-Demand eCommerce Tech Skills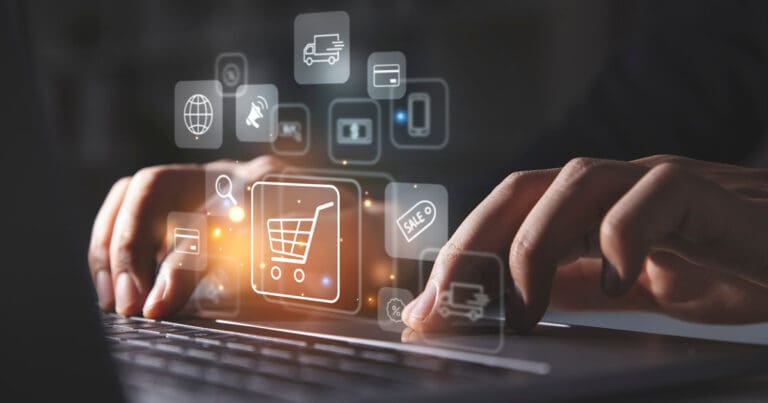 While retail stores struggle with declining sales and rising rents, eCommerce has never been more popular.
Industry giants like Amazon make up some of the most profitable companies on the globe.
As struggling retail chains look to improve their online strategies and as other enterprise-level eCommerce businesses continue to expand, demand for eCommerce Tech talent has risen steadily.
To help you prioritize the roles your retail business needs to remain successful in a crowded marketplace, here are the most in-demand eCommerce Tech skills.
In-Demand eCommerce Tech Skills
There are many in-demand tech skills when it comes to sourcing talent for eCommerce including software development, data analysis, UX/UI design, and AI specialties.
Software Development for eCommerce
The key to success in eCommerce today is software development.
With the rise of eCommerce solutions which include capabilities ranging from automation to customer relationship management, designing websites, providing customer service, marketing-related functionality, and more, expanding businesses like yours must hire Developers fluent in the solution that provides the best ROI for your company.
SAP Hybris, Magento, and Sitecore are just a few of the eCommerce solutions that are popular among growing enterprise eCommerce businesses.
We are seeing a rise in demand for Developer roles specializing in these solutions among our own IT and Tech placements.
Fluency in these solutions is key to identifying the best uses of them based on specific business needs.
Hiring a Hybris Developer to assist with the integration and use of the solution within your various departments enables your employees to best utilize the software, increase their overall efficiency, and produce enhanced results, which means more net revenue.
This is why it's no surprise that software development continues to be one of the top in-demand eCommerce Tech skills.
Data Analytics for eCommerce
eCommerce retailers need to better understand their consumers and how to reach them in an increasingly competitive and crowded digital marketplace.
They also need to optimize supply chains, improve operations, and manage various facilities to net more profit. That's where data analytics comes in.
Today, eCommerce businesses have more data than they know how to effectively utilize. 
Experts in data analytics can take that data and provide the actionable insights these businesses are missing. As more companies have begun to rely on data to inform their business decisions, the demand for data analytics roles in eCommerce has exploded.
Roles like Data Scientists and Business Analysts are a top need for eCommerce businesses looking to analyze their massive consumer and internal infrastructure data stores to uncover specific strategies that will optimize their performance and yield results.
Data analytics will remain one of the most in-demand eCommerce Tech skills in coming years as data analysis continues to be improved upon and refined.
UX/UI design for eCommerce
Shopify has made small eCommerce business websites look professionally designed with a fluid user experience (UX).
As such, consumers' expectations regarding the performance and design specs of the larger eCommerce business websites they frequent are higher than before.
Consumers are no longer willing to wait more than 3 seconds on average for a website to load.
Confusing menu bar? Too many steps in the checkout process? Outdated design?
These are elements that cost eCommerce businesses clicks, customers, and revenue every single day.
To remedy these issues and map out enhanced and elevated UX, online retailers are looking to hire UX Designers, UX Developers, and UX Specialists skilled in the latest UX trends and technologies.
These experts work to improve the UX functionality of a website or app, maintain a seamless user experience, and solve any UX-related issues as soon as they arise.
AI specialties for eCommerce
eCommerce will be one of the industries disrupted most by AI technology.
AI or artificial intelligence-driven tech will continue to disrupt the way eCommerce companies do business, like the recent rise of chatbots in the industry.
While these types of tools will come to replace certain eCommerce roles, like those in the customer service sector, they will also provide new roles for experts that specialize in how to best integrate and utilize them.
We are already seeing a rise in demand for AI Specialists, which is a more general role, however, we expect to see a rise in AI titles specializing in a set AI-driven technology or solution, similar to what we see for Developer roles in eCommerce.
As AI solutions continue to be refined and more uses are discovered, the eCommerce industry will continue to be one of the earliest adopters of the tech, which will drive demand for AI-based skills much higher.
In-demand Tech skills for eCommerce
eCommerce companies rely on innovation to remain successful. 
Software development, data analytics, UX, and AI-driven are the most in-demand eCommerce Tech skills and will be crucial in driving innovation for enterprise eCommerce businesses moving forward.
Ensure you have the in-demand talent you need to stay ahead of your competitors.
If you lack the software development, data analytics, UX, or AI talent you need to implement new solutions or develop new offerings, contact Mondo today. We have the skilled eCommerce Tech talent you can't find anywhere else.
Looking to hire top-tier Tech, Digital Marketing, or Creative Talent? We can help.
Every year, Mondo helps to fill over 2,000 open positions nationwide.
More articles about job searching and industry trends: