Mainstream VR Adoption Just Got One Step Closer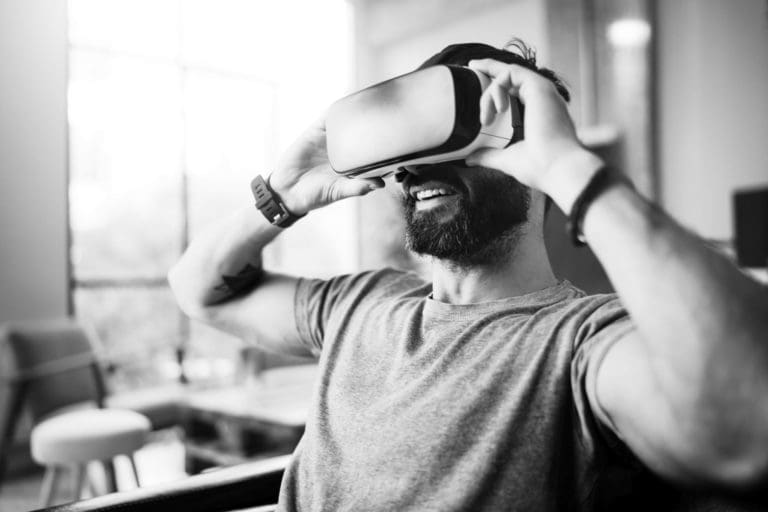 For years, Google has made it their goal to bring virtual reality (VR) to the masses, and they just took one major step to accomplishing exactly that. On Feb. 9, Google announced their widely popular Chrome browser now supports VR experiences. This is huge. Mainstream VR adoption has long been the dream of science nerds everywhere, but the rest of the world was convinced it was years, if not decades, away. Turns out, it's here. A VR experience is now only one URL away.
As we noted in our recent 2017 Tech Trends & Talent guide, VR is an immensely profitable sector that holds limitless potential, but widespread adoption has proved challenging with ridiculously expensive hardware and current computing system's incompatibility with the software. Google has solved these hurdles and now seeks to follow through with their goal to democratize VR entirely. Let's take a look at how they're doing this and what mainstream VR adoption means for companies like yours.
Google's Democratization of Virtual Reality
It started with the company's proclamation to democratize VR and bring it to everyone on every device. To generate initial marketplace interest by consumers from every socioeconomic group, Google introduced us to the $15 Cardboard viewer; the alternative to Oculus Rift's hardware priced at a staggering $599. They created the Expeditions program by partnering with schools to provide teachers with the devices and Google Cardboard viewers they need to bring VR experiences to the classroom. They proved that money shouldn't be the deciding factor between who can and can't experience VR, while also exploring the educational benefits VR offers.
Next up was the late 2016 release of their own cheaper, but more high-tech VR ecosystem: Daydream. It delivers on their promise to make VR accessible to more people with the hardware priced at an affordable $79. (So long Google Cardboard viewers!) The headset and controller are compatible with a few select phones to start, like Google's Pixel or Motorola's Moto Z. Which takes us to their latest announcement that the Chrome browser now supports VR with no hardware required, but it is encouraged for the full VR immersion. Just like that, Google made mainstream VR adoption not only possible but simply one click away.
Why is the addition of browser compatibility with VR so major? Here are just a few reasons:
When it comes to tech developments where users must be taught how and why they should like it, getting the product in front of them is the hardest part. Everyone uses Chrome. Now, everyone has access to VR. It's as simple as that.
It provides VR creators and developers a larger platform, thus larger audiences, to showcase the experiences they design. More usage drives innovation and means more bugs getting identified and corrected. Improvements result in a better experience. Better VR experiences result in higher demand. Need I continue?
It's a push for developers just as much as it is to get consumers familiar and interested in VR. For VR to reach global adoption, we need more developers focused on enhancing and expanding VR options. Give them a place they can reach VR and the code necessary for it and the developers will come.
It means that VR is about to infiltrate every aspect of the way we use the internet. Concert videos on YouTube can now seem like you truly were there with VR incorporation. Using Google Maps to navigate will get even more virtual.
The Impact of Mainstream VR Adoption on Companies
Now that you're versed on what it took to get us as close as we are now to mainstream VR accessibility and adoption (Thanks, Google!), it's time to address what it means for your company. To sum things up, widespread adoption of VR tech will change the way billions of people consume, receive, and experience everything from world news to movies, real estate, products, clothing, destinations, and more. It will change the way we work, the environments we work in, and who we work with. It has massive untapped internal business potential, in addition to popular consumer-driven uses.
Whether tech-based or not, businesses across every sector are already clamoring to reap the benefits of VR tech and the growing consumer pool made up of avid VR users. You'll see more and more competitors start offering VR experiences through branded apps. CNN and HBO have already partnered with Google to launch VR-driven apps for their consumers. Creating appealing and relevant VR content for your consumers or internal business functions is the next step.
What's Next
Companies that understand early on how to best utilize VR tech and the resulting mainstream VR adoption to further their business goals and increase revenue will be the ones outperforming competitors for months, if not years to come. Which is why landing qualified tech talent specializing in VR has never been more important. Take steps today to onboard the VR talent you'll need later to ensure you don't miss out on the next massive tech innovation that will transform our lives so entirely we can't fully imagine the outcome just yet. But give Google some more time, I'm sure they'll figure it out for the rest of us.
If you lack the specialized VR talent you need to take advantage of the recent WebVR tech incorporation to Chrome, contact Mondo today. We'll connect you with the VR experts you need.