The Most In-Demand IT Jobs of 2018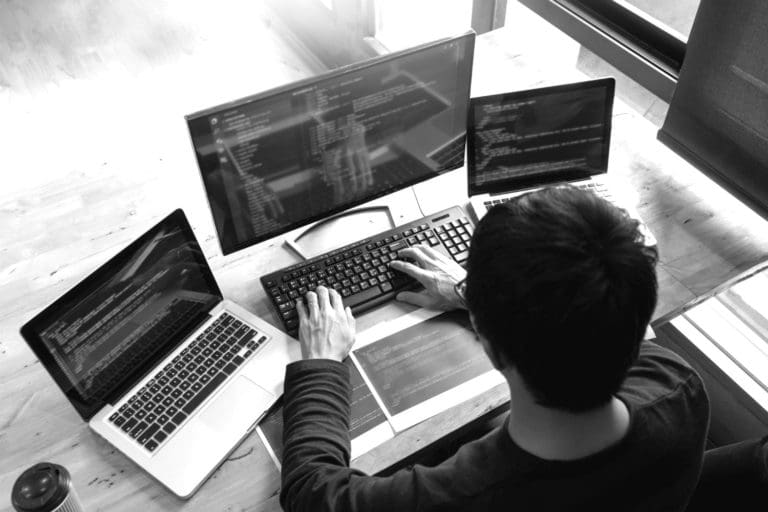 Thanks to emerging technologies like virtual reality (VR), augmented reality (AR), and artificial intelligence (AI), information technology is becoming one of the fastest growing industries in the United States. With many experts expecting the IT field to double by 2024. With these predictions, it's crucial to identify and hire for the in-demand IT talent you'll need to remain competitive in 2019. Here we uncover a few in-demand IT jobs of 2018 that can help your company remain successful for the remainder of the year, along with tips on how to hire them. More in-depth IT insights, hiring trends, salary ranges, & in-demand skill sets can be obtained from our exclusive 2018 Salary Guide.
In-Demand IT Jobs
Full Stack Web Developer. Unlike many programmers, Full Stack Web Developers can build, develop, and deploy websites all on their own. James Aguilar, a co-founder of Rebar Solutions, points out that companies who hire these professionals are reducing their overall costs, considering this position is a mix of front-end, back-end, and database responsibilities. Hiring a Full Stack Developer will eliminate the need and costs for three different professionals, while helping you successfully create a stunning yet functional site, which will enhance your audience experience, increase site traffic, and drive conversions.  
Information Security Analyst. These cybersecurity professionals are the ones who will create and oversee the implementation of all of your company's security measures and procedures. Your business will want to onboard an Information Security Analyst because they are essentially paid to familiarize themselves with how hackers manipulate technology, the latest breach methods, and how to prepare your business for any future breaches or attacks. In an age where cyberattacks seem to evolve almost daily, this in-demand IT job is crucial to any successful defense system. Without this role, your company becomes more vulnerable to evolving cyberattacks and may not know how to mitigate future cyberattacks.
Data Engineer. Though very similar to the coveted Data Scientist role, Data Engineers are usually not the ones who work to make sense of your business's vital data sets; instead these Tech professionals will create the systems the Data Scientists will use to make insightful analysis of the data. Data Engineers are one of the most in-demand IT jobs because they are the ones responsible for manipulating, transforming, and cleaning raw data to enhance the work of Data Scientists and your automated systems. Simply put, to ensure your Data Scientists work at their full potential, you must hire Data Engineers.
How to Hire IT Talent
These in-demand IT jobs can help your company remain competitive, deliver innovative results, and drive revenue. Since your business needs to attract and retain these professionals before your competitors do, here are two effective strategies to help you do just that:
Offer Remote Options
Telecommuting is becoming more and more popular, not only in the IT/Tech sphere, but across several industries. Onboarding remote Tech talent will increase your company's productivity, and lower overall expenses, but, offering remote work options will also give your company access to a larger and more diverse talent pool.
As Shane Hurley, from RedFynn Technologies, told Glassdoor, with remote workers your company only pays for the work they've done versus paying a full payroll and benefits. When your business offers your professionals remote work options it gives them more freedom and work-flexibility, which can enhance your likelihood of retaining in-demand IT talent. More and more we see Tech talent prioritize soft benefits like telecommuting and flex scheduling.
Foster an Inclusive Culture
To attract the professionals you wish to take on your in-demand IT jobs, you must develop and implement a diverse and inclusive work culture. Various studies, like the one conducted by McKinsey & Company, have revealed that businesses who realize and understand the importance of inclusion, can become up to 15 percent more profitable than they were previously.
When you foster an inclusive and diverse work culture for your Tech talent, your business will begin to reap the rewards of investing in the well-being of your employees. Your professionals will, in turn, be more invested in the future of the company; increasing your overall productivity, innovations, and ability to attract new talent, who want to work for a company that allows each of their employees to feel safe, heard, and included.
It's time for your business to secure the high-end talent necessary for these in-demand IT jobs, to ensure you have the professionals needed to remain successful and rise above your competition. If you lack the resources or time to locate any of these roles, contact Mondo today. Our dedicated recruiters can help connect you with the developers, engineers, and analysts your business needs now.