4 Useful SDLC Hiring Tips & Trends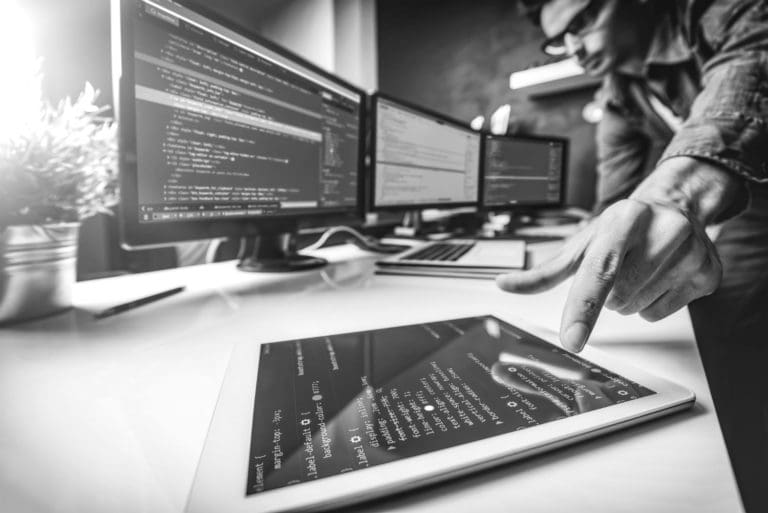 Software development continues to be a top priority for a majority of enterprise businesses. Companies like yours rely on building or buying software for everything from automation functionality to cloud integration. As innovative software solutions become more central to improving the function and efficiency of your business, you'll need to hire for your next software development lifecycle (SDLC). We know this can be daunting, so we've mapped out the exclusive SDLC hiring trends and tips you'll need to net an effective SDLC squad that delivers an error-free software solution by deadline.
So sit back, relax, and read on for exclusive SDLC hiring tips and salary insights sourced from our SDLC Squad Hiring Guide.
The SDLC Hiring Trends & Tips You Need
As you probably know, the SDLC consists of four core talent groups, which are Project Management, Business Analysis, Software Development, and Quality Assurance or QA.
As the largest nationwide staffing agency specializing exclusively in IT, Tech, and Digital Marketing talent, we have years of experience placing professionals that make up the SDLC. Based on our most recent placements, here is a sample of the SDLC hiring trends and tips we've uncovered to enable you to make more informed hiring decisions.
Project Management: Hire PM talent in Q4. Based on our data and what we've seen recently in the marketplace, demand for Project Managers increases at the start of Q1 as companies begin hiring for their annual SDLC needs. To ensure access to the skilled PM talent you need, bump hiring to Q4. You'll hire earlier than your competitors when the demand (and average salary ranges) are lower.
Business Analysts: Hire BAs that can articulate analytical processes to the common user. In the hiring process for Business Analysts, it's crucial to test out their ability to translate their analytical process into layman's terms. This is so, later on, there is no difficulty in translating the BA's insights to your SDLC squad so they can easily understand how the requirements of the project were determined.
Software Development: Pay more for subject matter experts initially. Software Developers are the most expensive element of the SDLC. Cut costs by paying a premium initially for a Developer versed in the subject matter of your project and then hiring middle-tier dev. talent for the remaining development needs to offset this initial premium.
Quality Assurance: Stay in touch with the recruiter to retain top QA talent. Businesses typically prefer to use the same QA contractors or consultants for numerous software dev. lifecycles since these experts are already familiar with the brand and nuances of the tech they'll be analyzing. Maintain regular communication with the recruiter providing your QA contractors to keep this talent accessible for future software-based projects.
Fast SDLC Salary Facts
Whether you build or buy, you'll need a solid SDLC team for implementation or development needs. Ensure your remaining Q4 budget and annual 2018 budget allow for these talent needs by checking out these fast software development salary facts.
Project Management:

Avg. Salary Range: $95-140K
Avg. Bill Rate: $125/hr

Business Analysts:

Avg. Salary Range: $75-130K
Avg. Bill Rate: $95/hr

Software Development:

Avg. Salary Range: $85-170K
Avg. Bill Rate: $110/hr

Quality Assurance (QA):

Avg. Salary Range: $80-120K
Avg. Bill Rate: $90/hr
Software solutions are a crucial tool to the continued success of your business. Guarantee you are making the best financial investment by following these SDLC hiring trends and tips for your software development-based hiring needs. Trust us; you'll be happy you did.
For access to even more exclusive SDLC hiring trends, tips, and salary info, download our SDLC Squad Hiring Guide today.
If you lack the project management, software development, business analysis, or QA talent you need for your next SDLC project, contact Mondo now. We have the high-end, niche talent you won't find anywhere else.