The Importance of an Employee Appreciation Strategy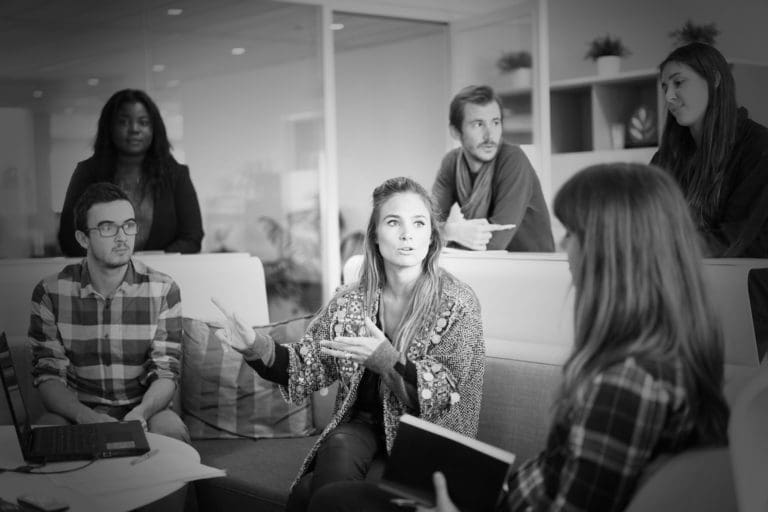 Around this time of year, we all get together to acknowledge our blessings and give thanks for our good fortune. Usually while enjoying a delicious Thanksgiving dinner surrounded by family. But instead of limiting your gratitude to your friends and family, why not bring that appreciative approach to the workplace with an employee appreciation strategy?
Studies show that employees who feel valued and appreciated are more likely to rate their workplace positively, remain with the company longer, and help develop a culture of appreciation within the company. Given these results, you'd expect every company to implement an employee appreciation strategy, but that is typically not the case. Let's delve deeper into why showing thanks in the workplace is uncommon, how doing so can improve culture, boost productivity, and improve employee retention rates, and provide a few ideas for how you can start implementing a strategy today.
What Happened to "Thank You" in the Workplace?
Many executives or upper-level management employees function under the assumption that a paycheck is their employees' thank you for a job well done. But in doing so, they fail to see the larger picture. Employees want to feel valued by their employers. While they aren't children and don't need constant flattering, a well-deserved thank you can instill feelings of worth, pride, and self-confidence in employees. This can lead to increased productivity, new ideas and innovations since employees feel more secure taking risks, and higher retention rates since your employees feel good coming to a place that recognizes and values their performance and contributions.
By developing and implementing an employee appreciation strategy, companies will also see their culture evolve into one that places emphasis on gratitude. When an employee receives appreciation, they are more likely to express gratitude to another co-worker or even a boss, which continues the cycle of positive feedback and improves job satisfaction levels. While "thank you" for a job well done may seem taboo in the workplace, the best companies including Google are prioritizing it due to the varied benefits it has on the business itself. Which should make any forward-thinking executive reconsider their stance on developing an employee appreciation strategy.
Employee Appreciation Strategy: 6 Ways to Show Appreciation at Work
To help you start recognizing your employee's efforts, here are a few ideas on how you can show appreciation at the workplace while still maintaining a professional air that expects the best from all employees.
Say it publicly. If an employee does an incredible job on a challenging assignment, task, or project, try voicing your gratitude publicly. Not only will it show how much you valued their efforts, but it also encourages fellow employees to emulate that hard work since they know you will notice and express gratitude for it.
Send it in an email or text. It's important to show gratitude for employees that often may go unnoticed. Whether it's your HR department or part-time IT team, your business can't succeed without them. Sending an email or a text thanking them for a job well done will show that you value their contributions and are making a note of them.
Write a thank-you card. In today's digital world nothing beats a handwritten thank-you card when it comes to genuine acts of appreciation. Maybe one of your employees has been working late nights to meet a deadline, or your Mobile App Developer finished the project ahead of time. These are two great examples of when to use a personalized, handwritten note to showcase your gratitude for them going above and beyond. They'll feel good knowing their diligent work is appreciated.
Treat your employees to a thank-you reward. Expressing gratitude doesn't always have to mean saying "thank you." You can easily show your appreciation for a great staff or specific department by offering them an afternoon off, a happy hour on you, or another gift or activity they will enjoy. While they don't need to be rewarded constantly, a tangible reward here and there is a great way to boost morale and increase job satisfaction levels.
Get specific. Whenever you are showing gratitude to employees, always get specific. A generic "thank you" is not helpful to anyone and often feels like a blanket statement that lacks sincerity. Instead, include specific elements of what they did that you appreciated. It will encourage more of that behavior and show that you are paying attention to their actions.
In Conclusion
With Thanksgiving right around the corner, there has never been a better time to implement an employee appreciation strategy at your business. Some of the most successful companies prioritize appreciation in their workplace and have found it drives innovation, improves company culture, and boosts job satisfaction levels. You might be surprised to see the results integrating this type of strategy can have on your business as a whole. Who knows, maybe you'll even walk in to find a thank-you card waiting for you in your office.
Looking to develop and incorporate additional strategies into your business? If you're missing the digital marketing or tech talent you need to do so, contact Mondo today. We have the qualified professionals you need to reach your business goals.