How Companies are Focusing on Employee Onboarding to Improve Retention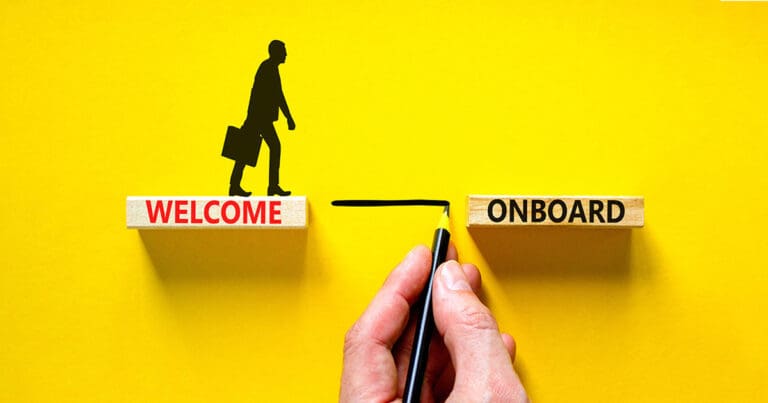 With The Great Resignation still going strong, employers are being given a golden opportunity to reassess their employee retention strategies.
This starts with a comprehensive and intentional employee onboarding plan to ensure new hires understand your company values and feel they've made the right choice from day one.
It also helps to stay up to date on the latest industry trends and salary ranges by using tools and resources like our 2022 Salary Guide.
What is Employee Onboarding?
Onboarding is an oftentimes overlooked portion of the employment lifecycle that can show incredible returns if done in the right way.
The return on investment of having a comprehensive employee onboarding process is much higher than most companies realize.
Employee engagement has been proven to be one of the most important factors in an organization's success, improving productivity by 40%. Just one more compelling reason engagement should be a priority not only during employee hiring but also during their first few days as new employees.
How does employee onboarding relate to employee retention?
Employee onboarding is all about helping new employees integrate into their roles and company culture.
Employee retention strategies therefore must include an emphasis on employee engagement, while considering the goal of building long-term relationships between companies and workers.
Since your organization's brand affects how it feels to work there more than any other factor, it only makes sense that a company's onboarding process should be a priority in the hiring and management of new employees.
What is an employee retention plan?
Employee engagement is an effective way not just to attract exceptional talent, but also to retain your most valuable workers.
Employee retention strategies must focus on building strong relationships with individual workers who will help create a positive culture within their teams and divisions over time.
7 tips for improving employee retention:
1. Revisit your employee onboarding program
Consider introducing your new hires to their team before they begin so they feel welcome right from their first official day.
Next, give your new hires ample exposure to their direct managers to review their job descriptions and discuss company culture and company structure.
To kickstart the longevity you're hoping for from your new hires, you'll also want to create a memorable onboarding experience. Start by providing an employee onboarding checklist to make it simple for new hires to complete all onboarding tasks. Some companies use onboarding software to manage this process.
This process could include an expectations packet of some kind that clearly outlines milestones and markers for each day, week, and month of their onboarding.
This helps to make it clear from the start what's expected of new hires throughout the duration of their first few months.
2. Offer remote work options for improved employee retention
As we mentioned in our recent article about The Great Resignation, it's been well documented that business performance doesn't take a hit by having people work from home.
That, combined with shifting workforce mindsets, shows us that trends are pointing toward a largely permanent remote workforce moving forward.
3. Allow for more workplace flexibility
More and more, the American workforce is calling for more flexibility. Not just in the ability to work remotely but also in the hours they keep.
Offering up the ability for your employees to work autonomously and to manage their personal commitments while owning their business each day shows them that the company is committed to helping them maintain a healthy personal and professional balance.
We've found that one of the biggest markers for employee satisfaction is the opportunity for career progression.
Defining a clear path to success for employees shows them that the company is committed to their personal and professional development. While these paths don't necessarily need to be linear, employees need to know that there is room for growth.
4. Offer employee advancement opportunities
You can't just define a path for career progression and then not offer the tools and resources they need to make it happen.
Offer things like continuing job training, education reimbursement or incentives, as well as additional training and development opportunities.
When employees are empowered to grow and are given the tools to do so, it's a win for them and the organization.
5. Provide resources for physical & mental health
The importance of placing an emphasis on the physical and mental health of employees for retention purposes cannot be overstated.
According to this study on well-being in the workplace, "Work-related stress is a major cause of occupational ill health, poor productivity and human error. This means increased sickness absence, high staff turnover, and poor performance in the organization."
A comprehensive employee onboarding plan is your best chance of getting off on the right foot. Make it clear from the start that you are invested in the employee's success. This will help set the tone for a positive and productive working relationship.
6. Collect feedback for improved employee retention
Give your staff ample opportunity to share their experiences through regular employee satisfaction surveys and actually listen to their feedback.
Nothing says, "We don't actually care about what you think or how you feel," more than not addressing constructive feedback and making noticeable improvements. You can start by asking them to review the new employee onboarding process and evolve based on their feedback.
7. Treat employees like professionals
At the end of the day, we all just want to be treated with respect and a level of trust. You hired your employees for a reason, so let them do their jobs.
Something as simple as shifting away from a strict hourly-based culture to a results-based culture is a great way to empower your employees to take ownership of their work and define their path within the organization — and that, in a nutshell, is how you keep your talent from walking out the door.
---
Learn how we increased employee retention
Throughout the Covid-19 pandemic, all of these factors became more clear to us than ever here at Mondo and as a company that touts itself as a leader in the Tech, IT, Digital Marketing, and Creative staffing space, we knew we had a responsibility not only to our clients, but to our staff to ensure Mondo is and continues to be a safe, supportive, and engaging place to grow personally and professionally.
Here's how we shifted our employee onboarding to improve employee retention…
1. Remote work options increase employee retention
With 10 offices nationwide and 200 employees to consider, Mondo transitioned 100% of its workforce to remote work and as a result, we've had to pivot to ensure our talent feels connected even though they're no longer working in the same physical space.
2. Taking employee feedback seriously improves employee retention
The pandemic gave Mondo the chance to take a look at our company policies, where we were excelling, and where there was an opportunity for us to make improvements to our employee onboarding and retention strategy.
And what we discovered was that we didn't want to be another company that collects its team's feedback and then does nothing with it.
As a result, in addition to individualized, personal check-ins, we began sending out workforce pulse surveys on an as-needed basis as well as an annual employee engagement survey.
3. Build an onboarding plan for new hires
What we learned enabled us to come up with an action plan and next steps. Going 100% remote was a no-brainer but how could we make the remote work experience that much better? Not to mention our new hire onboarding process. How could we ensure that new hires felt supported and a part of the company culture right from the start?
We tried new things to manage employee retention
Right away we shifted to a 100% remote, high touch new hire onboarding experience that ensures new employees have the hands-on training and support they need to succeed right from day one.
Regular touch points became a staple of our onboarding and retention strategy with individualized one week, 30-day, 60-day, and 90-day one-on-one check-ins.
More flexible work hours were introduced, allowing for "Flex Fridays" — an opportunity take care of personal items in tandem with work!
We implemented no scheduled internal meetings companywide on Friday's to promote Mondo's entrepreneurial spirit of having the time to get things done from wherever, whenever.
We enhanced our mentorship and rolled out the Mondopreneur program that helps connect our team to other Mondo employees across the nation to learn from their successes and benefit from their support.
We placed a new emphasis on team and culture building to provide opportunities for our team to do things together in a virtual environment other than talk shop.
We re-framed our onboarding process to include training to normalize how to use PTO, mental and physical sick days to take away the stigmas surrounding taking time off.
Began placing more emphasis on physical and mental health including periodic mandatory mental health days and extended wellness shutdowns for long weekends around Memorial Day, July 4th, Labor Day, and the Holiday Break.
We offer tuition reimbursements for approved continuing education so our team can foster their passions and growth.
What happened to our employee retention?
Because of these shifts and the intentional employee retention strategies we've implemented, Mondo has seen a 20% increase in its retention rate since 2020.
In other words, while many industries took major hits through The Great Resignation, Mondo was able to retain more employees than ever before.
Not only that but we saw a marked improvement in team satisfaction, camaraderie, and engagement across the board just further illustrating to us that having a more intentional onboarding and employee retention strategy should be ongoing and not just a one-off event.
Find great talent when you partner with Mondo
Looking to hire? Contact us to get started:
Our biggest takeaway on employee onboarding and retention
When employers don't take an intentional and strategic approach to their employees' well-being it shows.
Employees need to know that their employers have their backs and that can mean everything from hands-on continuing education and clear paths to growth to team building and mental health support.
With this added emphasis on employee wellbeing and support in their personal and professional growth, it will make it hard for your top talent to see themselves working anywhere else.
At the end of the day, the proof is in the pudding because here at Mondo we've had to adapt throughout the pandemic just like the rest of the world, and — truth be told — we believe we're better for it.
Are we perfect? Hard no. But are we committed to continuing the trend of listening to the needs of our staff, treating them as adults and professionals, and evolving our company culture to accommodate those needs? You betcha.
Mondo Matches Great Talent With Great Companies
With an expansive, connected network of the top IT, Tech, Creative, and Digital Marketing professionals and a proprietary process, Mondo can match you with the hard-to-find, specialized talent you need.