Top 3 Employee Retention Strategies for Tech Workers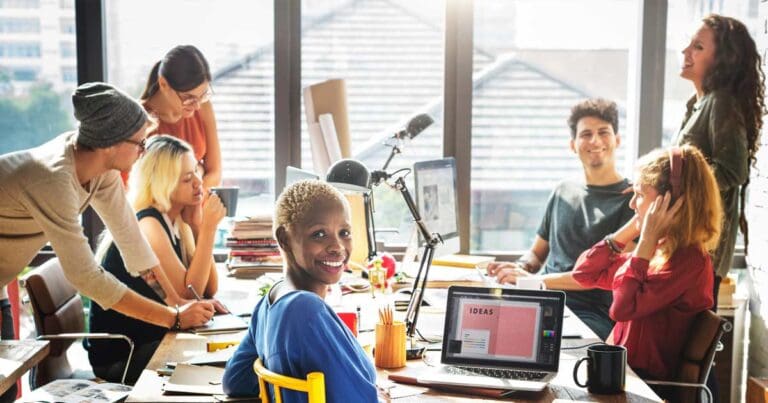 Tech businesses like yours know just how hard locating top talent can be and with the high-end talent gap growing, this is becoming an increasingly difficult task.
Once you find the perfect hire, you may realize, retaining your Tech professionals is just as tricky as attracting them in the first place.
Replacing employees with specialized skill sets or those in a senior Tech-based role will cost your company money, resources, and manpower, which is why several forward-thinking businesses are seeking practical methods to retain Tech talent.
How to retain tech talent
With close to 4 million vacant tech jobs in the U.S. and counting, the need to attract, hire, and retain top tech talent has never been higher. To help reduce turnover rates among your Tech workforce, which in turn can help recruitment efforts amidst the current industry-wide talent gap, here are 3 practical strategies to help you better retain Tech talent.
Rethink benefits to retain tech talent
Providing a quality benefits plan is a practical strategy that can likely increase your retention rates and productivity levels while decreasing your turnover rates. Mondo's CEO, Tim Johnson, highlighted that many Tech companies make the mistake of offering trendy perks the industry has become known for, like free laundry, ping pong tables, and comped lunches as a part of their core benefits.
Instead, Johnson suggests that Tech businesses ask their employees directly which benefits they find the most valuable.
Doing so will allow you to provide Tech talent with the benefits that matter most to them, which can lead to improved work satisfaction levels, reduced turnover rates, improved work culture, and increased productivity while also helping you better attract fellow Tech experts for available roles.
Offer competitive salaries to retain tech talent
Similar to offering employees better benefits, providing them with a competitive salary will not only help retain Tech talent but will attract other highly skilled specialists to your company.
CIO revealed that more than 50% of IT professionals are looking for new employment opportunities due to under-compensation.
Offering your talent competitive salaries will show your Tech professionals that they are seen as assets rather than expenses.
Paying your employees a competitive salary will give you an advantage over the businesses that don't see this as a necessity.
Ensure you are up to date on current salary trends while looking to offer increased salaries by downloading Mondo's 2023 Salary Guide for access to the exclusive hiring insights you need today.
Create a more inclusive work culture to retain tech talent
Offering benefits employees want and providing competitive salaries can help improve your retention rates, however, the growing threat to your Tech retention may be employee mistreatment and toxic work environments commonly found within the Tech sector.
The estimated cost of employee mistreatment in Tech is around $16 billion annually, so not only will your turnover rates increase, but your business expenses will as well.
It's important to remember that employees' work experiences will differ based on race, gender, and sexuality, which is why integrating intersectionality can be beneficial in helping create a more inclusive work culture.
Integrating intersectionality helps create a toxic-free environment that recognizes employees as individuals and take into account what is needed for both their professional and personal growth.
How does tech industry turnover impact businesses?
According to Spicework's IT Career Outlook, one-third of IT professionals, nationwide, plan on finding a new job this year.
More than 60% of Tech professionals across the current working generations are unhappy with their current salaries, according to that same report.
During the ongoing industry-wide talent gap, it's crucial that your new Tech hires feel valued by your business.
If your Tech talent feels under-compensated, it won't take long for them to find — or be poached to — a new career opportunity with a competitor who is willing to pay them what they're worth considering how in-demand Tech talent is today.
In addition, 79% of IT specialists reported they would accept new positions if they felt the job would expand their skill sets and also offer a better work-life balance.
Implementing employee retention strategies
Clearly, failing to invest in developing your Tech talent's skill sets and providing improved work-life balance initiatives will result in higher turnover rates, which can lead to unmotivated workers, negatively impacted work culture, and delays with project deadlines.
Given the fact that speed to market often determines the success of Tech-based products, solutions, and services, retaining the Tech experts on your team should be viewed as the key to your company's future success and prioritized as such.
Now is the time for your Tech business to develop and implement practical strategies to increase your talent retention efficiently. If you lack the Tech talent your company needs, contact Mondo today. Our exclusive network is filled with both active and passive, skilled professionals who want to grow and succeed with your business.
Looking to hire top-tier Tech, Digital Marketing, or Creative Talent? We can help.
Every year, Mondo helps to fill over 2,000 open positions nationwide.
More articles about job searching and industry trends: