4 Effective Cybersecurity Hiring Strategies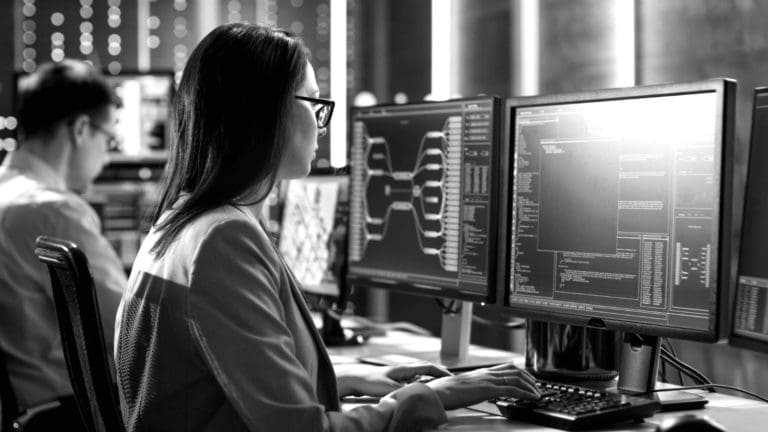 The latest Tech advancements like practical quantum computers, self-driving trucks, and facial recognition applications are just a few of the mind-blowing innovations being integrated into our everyday lives. As streamlined and seamless as these advancements are, they are accompanied by the threat of ever-evolving, invasive cyberattacks. 2017 brought us some of the most widespread, damaging cyberattacks yet, and companies like Yahoo and Equifax learned firsthand how harmful these hacks can be to a brand. Other recent incidents like the 2018 Winter Olympics cyberattacks only fuel the need for enhanced cybersecurity across the industry. These emerging cyber threats are why finding a set of practical and effective cybersecurity hiring strategies is the first step towards cultivating a secure defense for your Tech company.
The Rising Demand for Cybersecurity Talent
The government recently revealed North Korea was the culprit behind the WannaCry ransomware attack; A cybercrime that saw malicious malware infecting computers in over 70 countries. Businesses targeted in these attacks lost access to their data and were at risk of having confidential information leaked to the public if they didn't pay a fee to the hackers. This particular attack provides insight into how governments, globally, view cyberattacks. The U.S. Homeland Security Advisor, Thomas Bossert, has warned companies and corporations across the country to look into revamping their cybersecurity before it's too late.
Cyberattacks like cryptojacking, ransomware, and phishing, are making it imperative that you fill your team with roles that will enhance your cybersecurity. These attacks are only growing stronger with the rise of new technology which is why many businesses are developing effective cybersecurity hiring strategies now to secure the talent they need to build reliable defense systems. Today, two of the most in-demand cybersecurity roles are the Security Analyst and Security Manager.
Security Analysts are responsible for preventing breaches and alleviating any damages done by prior attacks. While Security Managers take on duties that include strategizing security plans and integrating protocols that help keep confidential data private. Both are in-demand due to the international shortage of Tech professionals specializing in cybersecurity. Closing your cybersecurity skill gap by hiring these two roles is essential to protecting your Tech business from emerging cyberattacks.
Cybersecurity Hiring Strategies To Implement Today
Identify Vulnerabilities. The first step when looking for a Tech specialist that can help provide defense against cyberattacks is identifying your company's vulnerabilities. Uncovering your business's weak spots can help you understand what kind of security strategies would be the most effective. Discovering your vulnerabilities also allows you to look for tech talent with the corresponding cybersecurity knowledge and specialization. You wouldn't want someone who excels in data breaches to be in charge of dismantling a ransomware attack, right? Find your weak points and seek out the tech consultant that has extensive experience in this area.
Incentivize Millennial Talent. Looking to the new generation for cybersecurity grants you the opportunity to onboard candidates with fresh perspectives, the latest cybersecurity knowledge and a social media-centric lifestyle that will help your company not only reach new consumer groups but provide cyber protection against emerging social media-based cyberattacks. Many industry leaders such as Google and Facebook have found success in fostering new work climates which have helped them appeal to the millennial generation and fill the security positions needed to prevent and recover from malware, phishing, and cryptojacking. If you're looking to net the most in-demand cybersecurity talent with the latest expertise, then you'll need to entice and incentivize that talent by providing benefits and the work culture they prioritize, like leading Tech giants have done.
Utilize a Cybersecurity-Focused Hiring Manager. Unlike many fields, the Tech industry is one where many standardized HR rules won't necessarily guarantee the best candidate gets the job. The hiring techniques used to find your team's Project Manager won't be useful when looking to fill your business's Security roles because the hiring process needs to be adjusted. To sum it up, the hiring manager overseeing your cybersecurity hires needs to be a cybersecurity expert. Although your HR team might pass on a candidate due to poor interview skills, a well-seasoned Tech hiring manager would know to overlook poor interviewing abilities for a candidate with the rare cybersecurity experience and knowledge that would make them an ideal addition to your defense team.
Outsource the Hiring Process. As you know, the hiring process can utilize vast amounts of your company's valuable time and resources, and most businesses can't afford to dedicate the time it takes to find the right hire. Outsourcing the entire hiring process to a staffing agency, like Mondo, can be one of the most effective cybersecurity hiring strategies when you have an urgent need. Our average time-to-fill rates of 3 to 5 days for contract-based positions and 5 to 10 days for full-time roles can provide you with security talent you need as soon as you need it. Outsourcing this process allows your company to focus on what matters most: providing quality services and solutions to your customers and generating more revenue.
If your company is in need of cybersecurity talent to protect and defend your most valuable assets, contact Mondo today. We'll match you with the specialized, high-end and niche talent needed to strengthen your business's cybersecurity.