Intersectionality in Tech: A Social Tool For the Workplace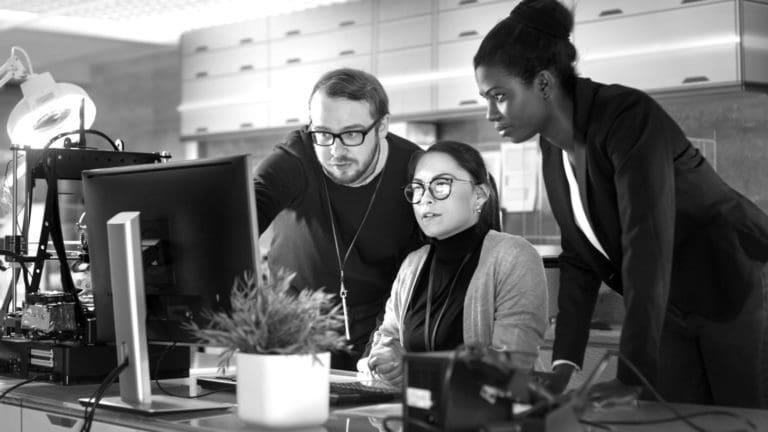 Lack of diversity is a workplace issue that the Tech industry continues to struggle with. Silicon Valley giants like Twitter, Google, and Apple have prioritized new diversity initiatives, but like many other companies, the majority of their new hires are still Caucasian, cis-male Tech experts. Learn how your business can benefit from integrating intersectionality in Tech.
What Exactly is Intersectionality?
Gaining awareness of your business's need to diversify is a great starting point. However, hiring talent from underrepresented minorities won't solve all of your internal culture problems. While uncovering solutions to correct the gender imbalance within your workforce, you must also look to provide answers to individual problems underrepresented employees face. It's essential to understand these issues will be multifaceted, rather than one dimensional.
Addressing each employee's needs and concerns is where you'll need intersectionality, in that you must view and approach each issue with an understanding of each employee's various overlapping privileges and discriminations. A young Caucasian, transwoman will need different strategies to meet her specific needs versus those an older African American, cis-woman would need.
Developing an intersectionality lens will assist you in better understanding the intricate systems of inequality that subconsciously operate in your company's workplace. Utilizing intersectionality in tech will help you craft tools to combat divisiveness amongst your team while helping you create a framework to develop changes that will then produce an inclusive work culture for all.
Your Tech business must understand that intersectionality is not simply a buzzword you can afford to ignore but a social tool needed to establish a work environment where all employees feel respected, included, and have the opportunity to grow not only as an employee but as an individual.
Benefits of Intersectionality in Tech
This year's SXSW event held the panel, Tech-no-color: Advancing Women of Color in Tech, discussed the inclusion and diversity issues Tech companies face. These industry experts emphasized that diversity and change should be the responsibility of C-level execs. This responsibility can also be applied to intersectionality, C-level execs must be the first to initiate change, which begins with viewing intersectionality and diversity as more than soft skills that show your business is socially-conscious. Applying intersectionality in Tech will likely increase your profitability and revenue. Here are a few more ways your business can benefit from introducing intersectionality into your work culture:
Boost Retention Rates – Adopting an intersectional lens can help your business retain and maintain the Tech talent you need to run your business. This adoption will help you realize the complex layers of each of your employees, helping you gain a better understanding of how to assist them. Your Tech-based employees won't need to look for other opportunities if you are building a culture that appreciates them as the individuals they are and provides them with the specific tools necessary for personal and professional growth. Improved retention rates also help you avoid the expensive and time-consuming process of replacing internal talent.
Expand Audience Reach – Including intersectionality in Tech will help your company avoid hiring biases and onboard more talent from underrepresented groups. Your new employees will bring various ideas and strategies, due to their different social, economic, and cultural backgrounds. Generating diverse ideas can serve as answers to questions you've never previously addressed, expanding your commercial reach to new audiences who will now connect with your services and products. Intersectionality will ensure your employees are comfortable, which in turn will influence them to bring their best ideas to the table, resulting in innovative productivity and a global consumer reach.
Attract In-Demand Talent – Intersectionality gives you the competitive advantage of attracting millennials. Fresh out of college with the latest Tech knowledge and strategies, these potential hires are drawn to companies that prioritize a corporate social responsibility. Your Tech company can gain this attractive quality by developing and implementing intersectionality techniques. Millennials are the future leaders of the Tech industry, so it's essential to craft a desirable culture they want to be a part of. Use intersectionality to deepen your diversity efforts and attract the fresh, in-demand talent that will grow with your Tech business.  
Integrating intersectionality to your diversity efforts will offer your business a chance to reap the benefits that extend far beyond PR social tactics. Start by spreading awareness and conveying the importance of intersectionality to your business.
Looking to expand your diverse staff of Tech talent? Contact Mondo today. Mondo's extensive network can help your company reach a broader, more diverse pool of the high-end Tech experts you need now.